Razer Reveals New Upgraded Blade Stealth Laptop at E3
The latest ultrabook version packs quite a punch.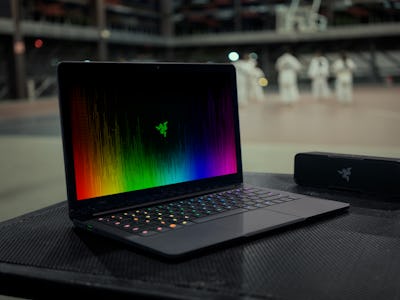 Razer
As a company, Razer has built itself quite the reputation within the PC gaming community by developing some of the best gaming peripherals available alongside a line of gaming laptops which offer quality performance for those constantly on the go. But last year the company released a new project called the Razer Blade Stealth, which offered powerful processing speeds with a Core i7 processor, the company's infamous Chrome lighting system, and a touch display all packaged into an affordable 12.5-inch ultrabook. The best part however was the $999 base model price tag though, which offered much better specs than the 13-inch MacBook Air at a far lower price.
Now, Razer's offering an upgraded 13.3-inch version of the Razer Blade Stealth, which was just announced Wednesday at E3. Designed to be one of the most portable laptops in the world, the new 13.3-inch version of the Razer Blade Stealth is 0.52 inches thin and only weighs 2.93 pounds with up to nine hours of battery life (which varies depending on how you're using the laptop).
From a durability standpoint, the new Razer Blade Stealth is CNC-milled out of aircraft grade aluminum in both a black or (for the first time) gunmetal gray finish if you prefer a sleeker, more low-profile design for your personal laptop compared to the standard black. This gunmetal gray finish will be available in the United States and Canada at launch, and no plans to expand availability have been announced by Razer just yet.
As for performance, you're looking at a 7th generation Intel Core i7 processor clocking at 2.7 GHz in the base model, and 3.5 GHz if you opt for a more powerful version of the laptop. This comes packaged with 16GB of dual-channel memory, and up to 1TB of solid-state storage to load assets quickly compared to the standard hard drive storage.
Here's the complete list of specs as provided by Razer:
13.3-inch IGZO 16:9 aspect ratio, capacitive multi-touch display.
QHD+ (3200 x 1800) with 100% sRGB Touch IGZO Panel
Intel Core i7-7500U Processor (2.7 GHz / 3.5 GHz)
Intel HD Graphics 620
256GB / 512GB / 1TB PCIe SSD options
16GB Dual-Channel System Memory (LPDDR3-1866MHz)
Windows 10 (64-bit)
Killer Wireless-AC 1535 (902.11a/b/g/n/ac + Bluetooth 4.1)
Thunderbolt 3 (USB-C)
USB 3.0 port x 2 (SuperSpeed)
Built-in webcam
Chroma anti-ghosting keyboard with individually backlit keys
HDMI 2.0a audio and video output
Built-in stereo speakers
3.5 mm headphone/microphone combo port
Built-in array microphone
Trusted Platform Module (TPM 2.0) security chip embedded
Compact 45 W USB-C power adapter
Built-in 43.6 Wh rechargeable lithium-ion polymyer battery
0.52 in. / 13.1 mm (Height) x 12.6 in. / 321 mm (Width) x 8.1 in. / 206 mm (Depth)
2.93 lbs / 1.33 kg
When it comes to gaming, it goes without saying that the Razer Blade Stealth isn't designed to support a high-performance graphics card from NVIDIA or AMD by itself. Instead, you can opt to pick up the Razer Core to pair with the laptop, which allows you to connect to an external desktop-sized graphics card such as NVIDIA's GeForce GTX 1080 series with a single Thunderbolt 3 cable.
This will then boost your laptops performance, allowing you to dive into the latest games with the same level of customization you'd expect from a desktop setup. What's great is that this doesn't require a reboot either, meaning you can leave your programs running when making the swap.
The new Razer Blade Stealth starts at $1399, while the Razer Core can be purchased for an additional $499. If you opt to pick up the two together, you'll receive a $100 discount on your Razer Core.