'Mad Sheila' Is a Strange Chinese 'Mad Max' Remake
Heavy metal, fast cars, destruction.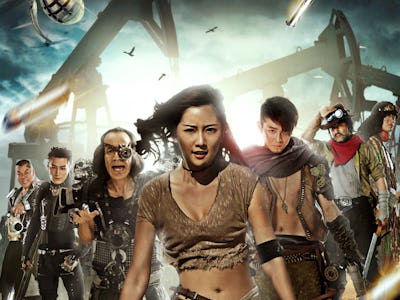 Tencent
There's a strange remake of George Miller's masterful Mad Max: Fury Road coming out of China. This one, however, is called Mad Sheila.
A studio called Tencent Films released the film online November 25. If you're a fan of spending your time watching absolutely atrocious movies, this may just be the ideal way to spend a Friday night.
The movie involves heavy metal, fast cars, and destruction. There's the same scary, virgin-obsessed boss, the same attempt to escape from his confinement, and so on, but the directing looks subpar at best. And the explosions are amusingly bad. From the behind the scenes footage, though, it seems like the actors — including Fion Fu, who plays Mad Sheila — know they're not starring in a major blockbuster. They're just having fun.
The various trailers make it look entertaining, but the entertainment value is more akin to watching Fury Road without special effects. It's not a good film experience, but it's something that'll make a viewer smile and perhaps gasp once or twice. Apparently, Tencent Films is something like China's Netflix; it hosts movies on its viewing platform, Tencent QQ, but recently began to produce movies, too.
More devoted Miller fans can await Fury Road's black-and-white release.
As io9 observes, even the posters for Mad Sheila are near carbon copies: