Vision Zero Brings the Fight Over Portland's Gentrification to Foster Road
A "road diet" for one of the city's busiest streets is the latest point of contention between Old Portland and Portlandia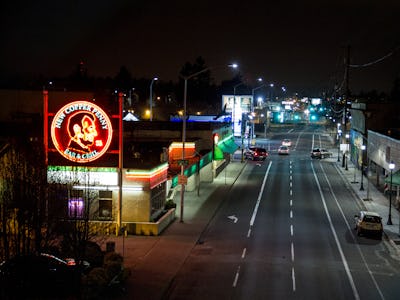 Twelvizm/Flickr
The Lents area of Southeast Portland is the sole bastion of affordable housing — a relative term to those from the Bay Area or New York — west of 82nd Avenue and the dividing line between Portlandia and the rest of the city. It's a neighborhood that has been immune to the city's aggressive rash of gentrification projects for the better part of the last fifty years. However, with the city's proposed Foster Transportation and Streetscape Project, the main throughway is being reimagined in a way that pits locals against either progress or a land rush in progressive clothing.
For residents of the city's east side, Foster is one of the few arteries connecting outer Portland neighborhoods and connecting suburbs to the city center. With an estimated 20,000-30,000 passenger vehicles, buses, and freight trucks traveling the road every day, Foster is a lifeline to residents and business alike. However, with all that traffic, comes some serious safety issues. Over 1200 crashes resulting in at least 8 deaths over the past ten years, the road has been designated as a High Crash Corridor by the city's transportation bureau.
As a part of the city's involvement in the Vision Zero program, the city is committed to ending all traffic-related deaths and serious injuries by 2025. It's a lofty, though noble goal, that the city hopes to reach through renovating busy roadways by increasing safety buffers like wider sidewalks and bike lanes, which slow traffic. In the case of Foster Road, that means eliminating two lanes.
The city says the "road diet" has a two-fold purpose: making the streets safer for pedestrians, bicyclists, and drivers and, according to Mayor Charlie Hales, to force travelers to "slow down, get out of their car and notice" the neighborhood and it's numerous small businesses. The Foster Transportation and Streetscape Project also includes funding for creating on-street parking, additions like benches and canopies to make the neighborhood more "attractive and comfortable," and green additions like new trees and storm water management.
However, longtime local business owners aren't buying it. They are furious over the city's plan to shrink Foster into a one-lane road and, with the help of neon poster boards, they want everyone to know it. Spearheaded by EuroClassic Furniture owner Jon Shleifer, business owners in the area are protesting the proposed "road diet" by covering their storefronts with dozens of brightly colored signs urging residents, customers, and commuters to call the mayor's office and let the city hear why the proposed renovations are such a terrible idea.
"Cutting a four-lane to a two-lane and trying to carry the same amount of traffic, common sense says it just doesn't work," said Shleifer in a recent interview with KATU News, "I've been waiting for 30 years for improvements… but keep the four lanes because it's a major highway."
Jeff Anderson, a 51-year-old warehouse manager, echoes Shleifer's concerns; he says his commute to the city's west side has already doubled over the past few years. "Once I got across the river, it used to take about 20 minutes to get from the bridge back to here," he tells Inverse. "Now, during rush hour, it's about 45 minutes to an hour if I'm lucky. And they want to slow things down even more? That's nuts. It's nuts."
Tanya Goff, a care worker who's family moved into an apartment complex near 72nd and Foster nearly 4 years ago appreciates what city is trying to do, but wishes they would consider the needs of the majority of the area's residents: "It's great that the city wants to make this area trendy, and push walking and biking and all, but Foster is like a freeway to a lot of the people who live out here. My husband and I, like a lot of people who live out here, both work across town, it's not like we can ride our bikes 30 or 40 miles each way."
Yet as much as this is a struggle of safety vs. convenience, the fight for Foster Road is just as much about city's rapidly shifting culture and identity. This is a sort of Bay Area-lite version of the fight for the future of a city.
The fear of gentrification is a real concern, especially for renters: according to Rent Jungle, rent in the Lents tends to be anywhere from $400 to $800 less than neighborhoods even a few miles away. Yet with the city facing a legitimate housing crisis, rents have already risen 14% over the past year. For a family like Tonya's another raise in rent could send them packing to the outskirts of the city or perhaps even one of Portland's outlying suburbs like Gresham, Beaverton, or Vancouver, Washington.
"The city is trendy enough, you know?," says Anderson. "Just leave us regular folk out here alone."
Conversely, tight rental market and increasing property values, have turned Foster into a bit of a gold rush for new homeowners, and business and developers looking to invest in the area. While the areas longtime residents and business owners are ready for a fight, many of the neighborhood's newer businesses can't wait for the city to break ground on the project, which has already been endorsed by the Foster Area Business Association. For many of the commercial newcomers, which include new restaurants, bars, coffee shops and the Mercado, a Latin-themed market/food cart pod, one of the big incentives to move into the neighborhood was to be on the ground floor of the areas inevitable "urban renewal."
New homeowners seem to have given a similar stamp of approval. Sammie Jones, a 28-year-old IT engineer and recent transplant from the Midwest, says he is looking forward to the changes: "I commute to work on my bike, so I'm stoked about the new bike lanes. As is, it can be a pretty sketchy ride sometimes. This neighborhood is on the upswing, but sure, you know, it is a bit run down in places and could use some sprucing up. This was one of the few places where I could afford to buy out here, and now that I'm a home-owner, I'd be a fool to fight something that will maximize that investment."
Even with all the bluster and technicolor signage, many believe the battle for Foster Road seems to have been over before it ever began. The Foster Transportation and Streetscape Project was anonymously approved back in 2014 with neither fanfare nor noticeable objection. The city claims they provided updates in a timely fashion leading up to the vote, and ample opportunity for dissenting voices, and thus even though they have received a number of calls prompted by Shleifer's signs, there are no plans to delay or cancel the project.
However, business owners have pledged to not to give up the fight; many have been in contact with attorneys looking for a legal way to delay the project, and given we're talking about Portland, an escalation of protesting past signs in display windows might not be out of the question. "I think it's already pretty much wrapped up, but from what I understand, this city has an interesting history of protesting all kinds of things," Jones offers with a grin. "It will be interesting to see what happens once the construction crews start deploying."