Real-Life Bureaucrat John Whittingdale Could Become Doctor Who's Biggest Enemy
As the show battles already sinking ratings, the British Cultural Minister proposes to banish Doctor Who from prime time.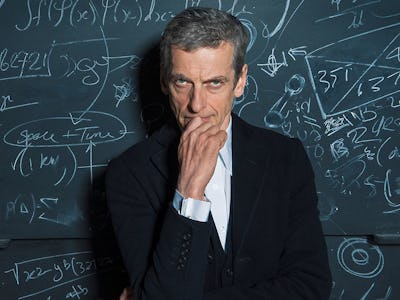 Movie Pilot
As it turns out, Doctor Who's most powerful enemy might not be Dalek, Zygon, nor Cyberman, but a beleaguered English bureaucrat looking for a fight with the BBC.
Culture Secretary John Whittingdale is said to be proposing a new set of rules designed to crack down on "competitive scheduling" that would prevent the BBC from broadcasting its most popular programming at the same time as its rival ITV. If implemented, the move would mean that BBC favorites like Poldark, The Night Manager, Sherlock, and of course Doctor Who would effectively be banned from weekend primetime slots.
The Conservative politician claims that because the BBC is funded through television licensing fees (what amounts to a national TV tax), aggressively competing with commercial stations for ratings is both a misuse of funds and gives the BBC an unfair advantage. Whittingdale's opponents immediately fired back calling the proposed rules a "completely unacceptable interference in the independence of the BBC."
Luckily, for Who fans on both sides of the Atlantic, it looks like a beef with the BBC is the last thing Whittingdale needs on his already-full plate. A fairly controversial figure in British politics after a number of private scandals, it appears Whittingdale is already walking back this potential controversy. A government spokesperson publicly denied reports of the proposed changes Sunday, but the opposition party had already pounced: Labour Shadow Culture Secretary Maria Eagle released a statement accusing Whittingdale of "behaving as if he ran the BBC."
While the denial has temporarily calmed the waters, history shows that going after the BBC is a priority for Whittingdale. The Cultural Secretary has been linked to a right-wing think-tank which has called to privatize the BBC due to an alleged "left-wing bias," and previously has attempted to revamp the fee structure for the BBC's streaming service.
If the potential shift in scheduling does happen, it won't have a huge impact on BBC America audiences, at least at first. However, as ratings have continued to slump over the past few years, rumors of the show's cancellation have only intensified.
Being barred from the coveted weekend night time slots, could be the nail in the show's coffin.