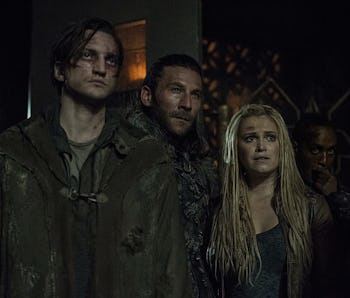 Entertainment
What's Happening on 'The 100' As It Returns And Why It Matters
'The 100' returns for the rest of Season 3 on March 31st. What can we expect and why does it matter?
The CW Network
Season 3 of The 100 returns March 31st, after a brief 3-week mid-season hiatus. Though the show's been off the air, it hasn't managed to stay out of the news in the intervening weeks. A major backlash following the death of a beloved queer female character — Commander Lexa played by Alycia Debnam-Carey — has had The 100 at the center of the discussion of LGBT representation and treatment in television.
As we get ready to pick up Season 3, though, what can we expect from the second half of the season? Here are the storylines to watch.
Polis
Following the death of a commander, it's Grounder custom to hold a conclave — that is, a ceremony in which the new commander of the 12(-13) clans is chosen and ascends to power. The process is a little murky, but involves the gathering of the Nightbloods, whose rare black blood identifies them as part of the eligible line for command. We'll see Cory Gruter-Andrews' Aden (Lexa's first choice to replace her at the helm of the coalition) and Ontari (Rhiannon Fish), a Nightblood from the Ice Nation and ally of the late Queen Nia (Brenda Strong), likely competing for the coveted seat in the Polis tower.
The new Commander is of vital importance to Clarke (Eliza Taylor) and the Sky People. Lexa singlehandedly saved Clarke's people this season, and if her successor turns his or her back on Skaikru, they face annihilation at the hands of the Ice Nation.
Beyond the fight for the title of Commander of the Twelve Clans, we'll be keeping a close eye on the A.I. that Titus (Neil Sandilands) extracted from the back of Lexa's neck after her death. This is what Lexa referred to several times throughout Seasons 2 and 3 as the spirit of the Commanders — now her spirit, too, presumably. Clarke is shattered following the loss of Lexa and will become very invested in keeping this safe.
Count on seeing more Murphy (Richard Harmon) as we dive back into Season 3, too. He's one of the only people who has seen firsthand what Lexa meant to Clarke and it's exceedingly likely that we'll see a new dynamic between these two characters, who haven't shared the screen since the beginning of Season 2.
Arkadia
Back in the settlement formerly known as Camp Jaha, things are, in a word, tense. Pike (Michael Beach) is objectively the worst, Bellamy (Bob Morley) continues to be complicit in some truly reprehensible shit, and Kane (Henry Ian Cusick), Lincoln (Ricky Whittle) and Sinclair (Alessandro Juliani) face execution for treason.
Arkadia is a camp divided, and some of our friends from Seasons 1 and 2 find themselves on opposite sides of a mounting civil war.
Octavia (Marie Avgeropoulos) will return to Arkadia and her anger at Bellamy is going to intensify when she discovers that Lincoln's life is on the line and that her brother is at least partially responsible.
Mounting tensions inside of Arkadia add to the worsening situation beyond the gates. If the new Commander doesn't honor Lexa's promise to protect Skaikru, a divided Arkadia doesn't stand a chance against the threat of the Ice Nation.
Raven, Jaha and A.L.I.E.
Poor Raven (Lindsey Morgan) can never catch a damn break. Battling chronic pain at the hands of her injuries from seasons 1 and 2 (that'd be a gunshot wound, rough landing courtesy of an explosion and bone marrow extraction from the hip), Raven is searching for a reprieve.
After returning to Arkadia/former Camp Jaha, former Chancellor Jaha (Isaiah Washington) has been aggressively pursuing new residents for the City of Light — a sort of artificial oasis accessed via chips that bear a striking resemblance to the A.I. that Titus removed from Lexa's neck.
Jaha's been a broken record, rattling off the whole "no pain in the City of Light" spiel to anyone who will listen, and Raven eventually gave in to the promise of relief from her physical and emotional pain. However, Episode 8 showed us that there's a dark side to it — Raven's losing her memories of her dead bf Finn (Thomas McDonell) and discovers that A.L.I.E.'s intentions are, uh, not great. Jasper and Raven work to thwart A.L.I.E.'s dastardly plans, but there's more of A.L.I.E. to come.
Clarke "I Bear It So They Don't Have To" Griffin
Clarke was completely absent from Episode 8, which took place entirely inside of Arkadia, but we're going to see her in Episode 9.
After losing the woman she loved deeply, Clarke is going to have to find a way to push forward as she grieves for Lexa. At the WonderCon panel in Los Angeles last weekend, Eliza Taylor was asked about how Clarke is going to handle the loss, to which she replied, "Clarke has always been good at compartmentalizing… But this one's different, this is her love. And I think it changes her, it really changes her for good. But in true Clarke fashion, she will get through it."
When she discovers that Lexa (or, at least, part of Lexa) is inside of the A.I., she'll work to protect it and keep it from falling into the wrong hands. Now focused on keeping the piece of Lexa she has left safe, we're going to see Clarke Griffin do what Clarke Griffin does best: Fight through her pain.
Clarke has always been one of The 100's greatest strengths — Taylor's performance is consistently outstanding as she brings the strong, vulnerable and deeply scarred Clarke Griffin to life. In the second half of the season, though, we need to see some of the Clarke that we saw in Season 2. She's one of the best heroes on television, and so far Season 3 hasn't allowed that part of her character to come through as strongly as it has in seasons past. Here's to hoping for the return of Heroic Clarke Griffin.
The Fans
There's no way around it — Lexa's loss will be deeply felt for the rest of the season and for seasons to come, not only by Clarke, but by the fans, too. The 100 severely mishandled Lexa's death and it's left many fans angry, hurt and ready to walk away from the show.
The 100 has a lot to make up for, and whether or not it's treatment of LGBT and diverse characters improves will be a big factor in determining if the show can come back from the backlash. There's hardly been a better time to listen to the fans. The response to Lexa's death has been big, influential and unprecedented as fans have rallied to build awareness around issues of representation and queerbaiting, raise over $108,000 in the ongoing fundraiser for The Trevor Project and even elicit an apology from showrunner Jason Rothenberg concerning the show's missteps.
The latter half of The 100 is going to be instrumental to determining the course of the show from here on out. Even though it's already been renewed for a fourth season, the problem of its mass exodus of LGBT fans is hardly insignificant. We'll be watching closely to see how the rest of the season unfolds and whether The 100 finds itself traversing an increasingly dark path from which it can't come back or if it finds some of the essential human elements and inclusive storylines that made Season 2 so compelling.
The 100 returns tomorrow night, March 31st, for the second half of Season 3.