The Best Trivia Accounts on Instagram
'Star Wars' Expanded Universe, Marvel, elephants, and more.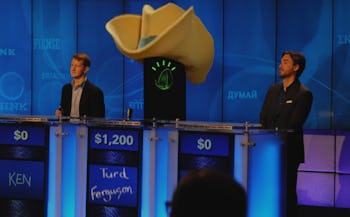 Charlie Wollborg/Flickr
Instagram is a useful resource. Celebrities give you peeks into their personal lives. Photographers showcase their expert work. And your ex just can't seem to stop having fun with her new boyfriend while you're on the toilet scrolling on her feed for 20 minutes.
But Instagram has become more than just a photo-sharing platform. Adult Swim's amazing cartoon Rick and Morty, for example, created the Rickstaverse last summer, an interactive game that uses the pictures as the portal into a deeper world.
That interactivity also extends beyond Rick and Morty-like efforts in a much simpler way: trivia. Because photos can obviously include text, accounts can write out a question to be answered in the comment section. (They could put it in the caption, too, if that's preferred.) Trivia does not just mean question-and-answer, though. Some accounts just love sharing daily fun facts — those are, of course, their own form of trivia. To maximize your Insta-fun intake, be sure to follow a mixture of both types. Here are some of the best trivia accounts to follow on Instagram, in addition to ours (@inversedotcom), of course!
Sometimes it's an obscure fact. Other times it's a quote. Mental Floss often posts multiple times a day. The site's frequent knowledge drops will surely be a welcomed break from the typical #foodporn your feed often posts multiple times a day. The site's frequent knowledge drops will surely be a welcomed break from the typical #foodporn of your feed.
UberFacts is perhaps the most notable of its kind, boasting one million followers. As a popular outlet, its output is not quite as esoteric as Mental Floss's, for example. Think of it as a trivia primer.
Here's where things start to get specific. There are several accounts that cater to your favorite nerdy interests, including Hero Trivia. It's a nascent account with just 14 posts to date, but the account is promising, as it really hones in on some popular heroes.
Superhero Trivia is part fandom, part trivia. The account will post about its excitement about projects (like Suicide Squad), as well as fun facts. Superhero Trivia even fosters comment section discussion, such as asking about Kylo Ren's future.
Batfamily Trivia is a more specific member of the Superhero Trivia family. It'll tell you a lot you may not have known about Bruce Wayne and the Gotham universe, including the cartoons, the Christopher Nolan films, and more.
Star Wars is big enough to spawn its own trivia empire. Starwas Trivias — despite the strange name — asks the real tough questions. Even Inverse's resident Star Wars expert Sean Hutchinson couldn't get the one above. (He called Ki-Adi-Mundie "Conehead." Idiot.)
Star Wars Trivia and Facts digs way deep into the Star Wars Expanded Universe. There aren't quizzes, but you'll learn who the fuck Yaddle is.
Think Elephants is an elegant Instagram account on its own. It's just elephants! Elephants are great. Even better, they add facts in the captions about the adorable beasts.