"No More Parties in L.A." Is Kanye West's Best Rap Song Since 'My Beautiful Dark Twisted Fantasy'
It's a bona fide rap jam that will surely please the Kanye purists.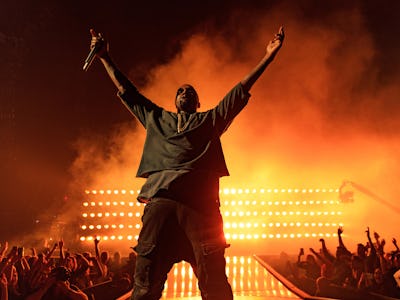 Christopher Polk/Getty Images for iHeartMedia
We knew from the snippet that "No More Parties in L.A.," Kanye West's new G.O.O.D. Fridays song with Kendrick Lamar, was sweet. But we didn't know just how good it'd be: It's Kanye West's best pure rap song since 2010's My Beautiful Dark Twisted Fantasy.
The song is great, in no small part, due to Kendrick Lamar's fantastic guest verse. Kendrick doesn't overdo things stylistically — as with the vocally experimental To Pimp a Butterfly. His best lines are humorous and standout for their simple use of alliteration, among other less overwrought techniques. For example, this couplet's been rattling around in my head since last week's snippet:
"Uhm, well cutie, I like your bougie booty / Come Erykah Badu me, well, let's make a movie"
It's almost like a nod to classic hip-hop joints, full of one-upmanship and name dropping. Basically, every rapper, at some point in his/her celebrated career, needs to pun on Erykah Badu's surname.
West, in his verse, channels a similar throwback vibe. His best lines (like, "Pink fur, got Nori dressing like Cam," and "I be worried 'bout my daughter, I be worried 'bout Kim / But Saint is baby Ye, I ain't worried 'bout him") are personal brags without much more flourish than tight delivery and a well-executed rhyme. As with early Kanye releases, he doesn't need to mess too much with what he's saying because you really want to hear what those words are.
West even takes that braggadocio/shade-throwing to the single art, putting that no-good laptop-stealing cousin of his front and center.
While Kanye West has released amazing songs since My Beautiful Dark Twisted Fantasy — the radio hits of Cruel Summer and the industrial minimalist genius of Yeezus — "No More Parties in L.A." is his best pure rap song because of its ease. The production — an MBDTF-era cut from Madlib — is gorgeous, but not experimental in the way Yeezus was. He doesn't play around with Auto-Tune, no matter how well he does that, too. "No More Parties in L.A." is just bar after bar of good hip-hop, easily his best since "Gorgeous" or "Power."
It's also no coincidence that "No More Parties in L.A." samples Ghostface Killah's classic "Mighty Healthy" from 2000's Supreme Clientele. It's actually the second time West has spit over the sample, the first being 2012's "New God Flow," a song that Ghost himself even hopped on. That album, and that song, in particular, may be the high bar in lyrical ability for the Wu-Tang Clan's most prolific writer. It's a no-bullshit song from a rapper who rarely deviates from his vision.
Channeling such a storied artist works well for West. It's like he takes on some of Ghost's determination, adding on his own commitment to excellence. "No More Parties in L.A." is brimming with trademark Kanye West confidence. He can and will say whatever he wants. And he shows he can still do it prolifically when he wants to.