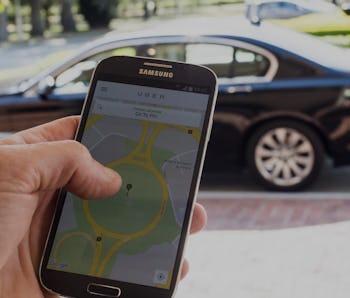 Innovation
Uber Pilot Program Will Turn Your Phone Into a Lie Detector
All Uber wants is for you to be securely amused.
Getty
Uber's rolling out a pilot program that's going to make your phone — and your driver's phone — a lie-detector of sorts, using GPS and gyrometer data to add context to disputes that result in the dreaded low rating.
The new program, announced today, will enable Uber to measure small movements tracked by both driver and passenger phones to monitor reckless driving.
As a result, Uber will be able to determine whether or not a customer's review is an accurate reflection of their experience. The technology would also prevent the driver from receiving an unfairly poor review, which can result in the driver getting less fares and, if it gets bad enough, the driver being removed from the pool altogether.
In the words of Uber's announcement:
[If] a rider complains that a driver accelerated too fast and broke too hard, we can review that trip using data. If the feedback is accurate, then we can get in touch with the driver. And if it's not, we could use the information to make sure a driver's rating isn't affected.
More significantly, is that the application of this technology will keep drivers and their passengers safe. With speeding as the cause of one in three fatal accidents in the U.S, resulting in 10,000 deaths in the year of 2012 alone, distracted or careless driving is a much bigger problem. Uber hopes to change those numbers by measuring a driver's speed in relation to the time it takes get to a specified destination.
Drivers have also put a few systems of their own in place. As it turns out, the Bop It is an incredibly useful device, both for children and drunken adults. Drivers in Seattle and North Carolina have cleverly thrown them in the back seat of their vehicles so that late night passengers can bat them around like a gaggle of stoned kittens, allowing the driver to focus on the road.